We can create lifetime free cloud pc (personal computers on the cloud ) which is always available 24×7 365 days on the cloud. You don't need any of the paid cloud PC services like windows 365 cloud pc, with a little bit of work you can create your own cloud pc.
This free cloud pc could have our all favorite cloud pc apps with low GPU cloud pc games installed and we can use it any time from a mobile or any other computer. You can use this cloud pc for your day-to-day work, cloud gaming, and even cloud pc mining if you wish. LIFETIME FREE PC on the cloud, Remote cloud Linux Desktop from any device, Windows Cloud PC alternative
First, I am using Oracle Always free cloud service to create a VM or VPS with Linux ubuntu with remote desktop access and install the desktop environment in it from your windows PC. we can achieve this using VM or VPS, which is shown in this video using oracle's free tier VPS. also you can use Lubuntu or Xubuntu desktop environments if you wish. Then you can remote rdp Linux cloud desktop from our home windows PC, Linux, macOS, And this cloud be your free cloud pc for android or ios and even Raspberry Pi.
In the below video, I explained how to create a free PC on the cloud for a lifetime with oracle cloud always free resources to know
1. Create an Oracle Free tier account for a lifetime
Click here to read an article and watch a video on how to create a free account on oracle. Signup for a free oracle account click here
2. Create a VM on oracle cloud
As shown in the video create a VM in oracle cloud with
Arm Apmere processer
Select 2 core and 12 GB ram.
select the OS as conical ubuntu with 20.04 version (Other versions may give an error)
Setup SSH Key with PuTTY or download oracle provided SSH (06:36)
Connect the VM with PuTTY and its Public IP. You can download PuTTy from here –Download
3. Use the below commands to install the ubuntu-desktop environment
Enter the below command in PuTTY

				
					sudo apt-get update && sudo apt-get upgrade -y
sudo apt install tasksel 
sudo tasksel install ubuntu-desktop
				
			
4. Create an admin user for the remote session
Create a user for the remote session and provide admin rights. You can replace toffy with your username

				
					sudo adduser toffy
sudo usermod -aG sudo,adm toffy 
				
			
5. How to Remote connect Linux machines in the cloud without a tunnel?
To make this, even more, widely available we use No machine remote desktop to use our VM without using ssh and without tunneling Install No machine 

				
					sudo wget https://download.nomachine.com/download/7.8/Arm/nomachine_7.8.2_1_arm64.deb 
sudo dpkg -i nomachine_7.8.2_1_arm64.deb
				
			
6. Oracle firewall configuration
Open port 4000 in oracle cloud service list allow sure for remote connection
7. Allow user for remote connection and allow password authentication

				
					sudo -i vim /etc/ssh/sshd_config

				
			
To edit sshd_config file press "i" from the keyboard 
Find passwordauthentication "no" change to "yes", 
Press ESC to exit, 
Type :wq to save
8. Final update and reboot VM

				
					sudo apt update
sudo reboot
				
			
9. Download and install NoMachine
Download and install NoMachine in your desired devices Like PC or mobile device
You can download No machine from here Download Nomachine
Add the VM public IP in nomachine as shown in the picture below. You can keep the rest of the setting as default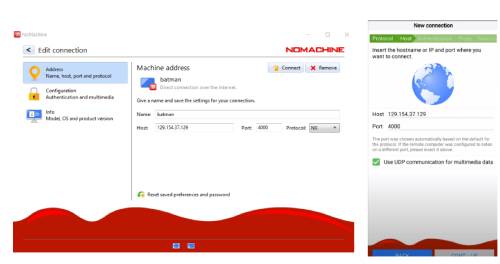 10. Conclusion
Tadaaaaa. Now You can access your VM any time ,anywhere and from any devices like windows PC, Linux, macOS, And this cloud be your free cloud pc for android or iOS and even Raspberry PI. If you like the article consider subscribe my YouTube channel  for more content Click here to visit my YouTube channel